Click for more info
How green is a Christmas tree?
Actually green is more than a color... here are useful facts and documents about the environmental benefits of using real Christmas trees.
Show clients green isn't just a color, promote the benefits of real Christmas trees today!
Tips to spread the "Go Green" message
Print these documents as signage for use around your lot and the cash register
Make larger and custom signs spreading word of the benefits of real trees
Distribute the information with your own correspondence and statements to show your dedication to going green
Have your employees read and promote going green with real Christmas trees today
Going green is not something you can just say, you must live it every day and pass on your knowledge to others
Printable documents index:
Online information index:
A Greener Cleaner Alternative to Plastic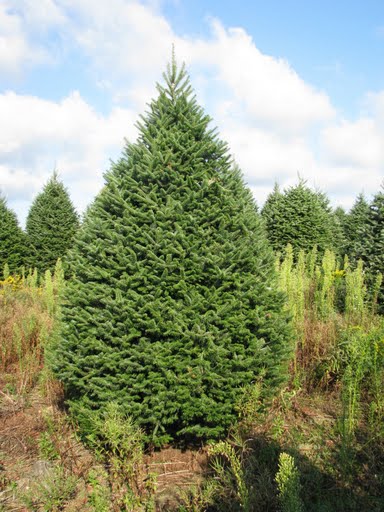 Printable version
Going green has never been easier with a REAL tree. Buying a Real tree benefits the environment more than an artificial tree in many ways, for example, artificial trees are not naturally bio-degradable and can only be disposed of by burning the fake tree. In previous years the idea of buying an artificial tree was to help protect the environment and stop deforestation, today this is not the case. The awareness of preserving the environment has become more important than ever before, do your part this year and Go Green with the environmental choice of a real tree.
Buying a Real Christmas Tree is about Protecting the Environment
Real trees are grown on farms much like any other crop; in fact one acre of real Christmas trees can produce enough oxygen for 18 people.More Info
There are close to half a billion Real Christmas Trees currently growing on Christmas Tree farms in the U.S. alone, all planted by farmers.
It can take as many as 15 years to grow a tree the average retail height of six feet, but the average growing time is 7 years. More Info
Only a portion of trees are cut every year ensuring a continual harvest and preservation of habitat.
Unlike artificial trees, real trees are completely biodegradable, after the holiday season people reuse their trees to make mulch, soil erosion barriers, or animal sanctuaries during the cold winter months. More Info
Christmas trees are planted in soil which other plants cannot grow, thereby increasing soil stability.
For every real Christmas tree harvested, 2 to 3 seedlings are planted in its place.
Artificial Trees Causing More Harm than Good
Printable version
Real Christmas trees do not harm our environment; they are grown on tree farm as an agricultural crop. Tree farms create thousands of jobs every year and promote money circulation within our economy. An article from the National Christmas Tree Association states that "85% of artificial Christmas trees are imported from China" contributing to the job loss of tree farmers in North America.
Other concerns in buying an artificial tree:
Artificial trees contain non-biodegradable PVC (polyvinyl chloride) plastics and possible metal toxins such as lead. Artificial trees can only be disposed when sent to a land fill to be burned, releasing harmful toxins into the atmosphere. More Info
According to The Children's Health Environmental Coalition; "the manufacture of PVC creates and disperses dioxins, one of the most toxic man-made chemical known". Released into the air and water, dioxins enter the food chain, where they accumulate in the fatty tissues of animals and humans, a potential risk for causing cancer, damaging immune functions and impairing children's development.
Dr. Richard Maas of the University of North Carolina conducted a test studying over 200 artificial trees. Through his studies he discovered that after leaving an artificial tree standing longer than a week, large amounts of lead dust would accumulate under the tree. More Info
Further The Children's Health Environmental Coalition states that, "Artificial Christmas trees are made of PVC and contain lead as well. Trees may shed lead-laced dust, which may cover branches or shower gifts and the floor below the tree". This should be a major concern for parents with young kids.
China being the leading producer of artificial Christmas trees may lead one to think about how safe their production measures are. The 2007 recall of Chinese toys in North America should bring attention to the possible level of lead manufactured into an artificial tree.
The fear of lead contamination is so abundant, that warning labels are mandatory on many artificial Christmas trees.
Artificial trees are a danger to the environment and to one's personal health. Although these risks may be manageable, the negative health implications related to owning an artificial tree cannot be ignored. Real trees have advantages that live on past the holiday season; they help the environment and the economy. So Go Green this season with the environmental choice of a REAL tree.
Recycling your Tree after the Holiday Season
Printable version
Treecycling is the process of recycling your Christmas tree to ensure that your tree is used to help the environment after the holiday season. Recycling your Christmas tree can be done at home or in your community.
Ideas for Recycling at Home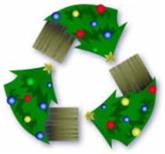 You can turn your old Christmas tree into a bird feeder and bird sanctuary for the winter months by placing fresh fruit, stringed popcorn, or last nights leftovers into the tree to be enjoyed from indoors. The tree will shelter the birds from the winter conditions and in the Spring be brittle enough to breakdown into mulch for in the yard and garden. More Info
Christmas trees offer a shelter for fish and feeding area for other aquatic life. More Info
Christmas trees can be used to prevent the erosion of beaches, lakes and river shorelines. The trees contribute to the stabilization of fish and wildlife habitats.
Local recycling methods
Christmas tree recycling programs vary depending where you live. Most curbside pickups occur two weeks following Christmas. Contact your local recycling center to find out about dates and local programs that support the recycling of Christmas trees.
At Crete Plantations we want to remind everyone to Go Green this holiday and remember to "treecycle".
Going green is not something you can just say, you must live it every day and pass on your knowledge to others
Other Sources of Information: